The Young Carers Development Trust is a registered charity which tackles the lack of opportunity experienced by many young carers due to their caring responsibilities.
On average each year 48 school days (10 weeks) are missed or cut significantly short because of their caring roles. Children who are young carers miss out on all sorts of opportunities, from basic education to social and developmental activities. At the Young Carers Development Trust we enable young carers to fulfill their potential, their hopes and dreams.
Prior to the YCDT's formation in 2012, only one young carer in west Wiltshire had been to university. Trustees are united in their view that young carers' life experiences often equip them for high achievement, once the difficulties caused by their caring responsibilities are addressed. YCDT is establishing a network of high-achieving young carers, willing to become active and inspiring role models for others from backgrounds similar to their own. YCDT works through its Development Mentors who provide resources and mentoring for these young carers. We currently support young carers from North Somerset, Bristol, South Gloucester, Wiltshire, Bath & North East Somerset, Gwent and Swindon.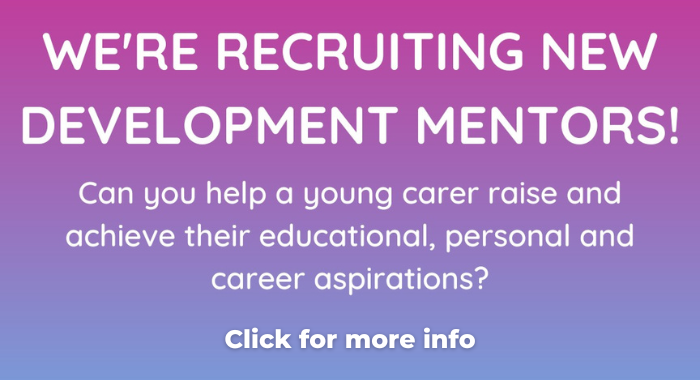 Testimonials
'The Young Carers Development Trust helped me develop my skills and learning so I could get into university. I was the first in my family to go to university and was so unsure about what to do and when. YCDT supported me with visiting uni's, asking questions and providing tuition to support me passing my A-levels.
Not only did they support me in a practical way, but they cheered me on during the process, helping me believe in my potential, something I am eternally grateful for. I have since completed my degree in psychology, and have returned to Uni for further postgraduate diplomas. All of this would not be possible without them.'
Amy Riley - YCDT Ambassador
'We made our first referral to YCDT in 2018 and they have been supporting us with Young Carers in North Somerset ever since.
YCDT has made a significant difference to the carers that we have referred, providing them with 1:1 mentors who are there to focus on them, allowing them to think about what they want for their futures, both in studies and beyond. YCDT provide much needed support throughout GCSE's and are excellent advocates with schools and colleges, attending meetings and offering solid guidance and practical help by providing laptops for learning.
With the support of YCDT, our Young Carers have had wonderful successes, with one being offered a spot at a leading private girls' school, the type of opportunity which would never have been available without the input from YCDT and their mentors. We have even had success with some moving on to university and others nominated for and winning National Carer awards. The difference has been life changing for our young carers and we are so grateful that we can work with YCDT. We cannot speak highly enough of the support and opportunities they have provided. Comment below from parent following referral:
"I've just been searching the Young Carers Development Trust – I've cried again watching their video. Thank you so much for putting 'A' forward for it - honestly I think this is exactly what she needs for her confidence"
Fern Davis - North Somerset Carers Support
'As a former beneficiary of the YCDT, at a time when my ambitions for higher education were continuously shot down, the support I was shown through mentoring and funding opened my eyes to the possibilities of achieving more for myself.
The help given to me by YCDT was instrumental, broadening my academic horizons through the provision of 1-2-1 academic tutoring, including multiple trips to repair my laptop, a trip to visit a university with my mentor, and even financial support with vocational goals like working for Camp America.
I would not be where I am today without them, and I am extremely grateful to Wiltshire Young Carers for referring me to YCDT and seeing potential in me when I did not.'
Kerry McKenzie - Young Carers Support Worker & Former YCDT Beneficiary