Young Carers Action Day! 16th March 2021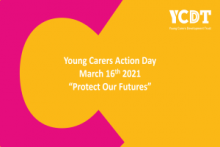 We are delighted to share YCDT's new film featuring our amazing young carers sharing their thoughts and experiences in support of Young Carers across the UK. Young Carers Action Day is awareness raising day and campaign to increase support for young carers, organised by The Carers Trust.  YCDT's Young Carers Action Day Film
YCDT Impact Report 2020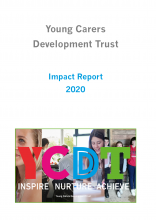 We are delighted to share our first Impact Report, demonstrating the life-changing impact we have had, the journey our amazing young carers undertake and their thoughts on the difference YCDT has made to their lives:
YCDT Looking Forward: A New Business Plan 2020-2023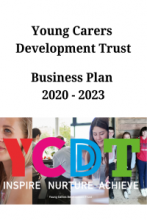 YCDT are very excited to share our new Business Plan 2020 - 2023, which looks forward to the next three years of the Charity and includes our plans to grow and develop the vital support we provide to young carers.  
Young Carers Awards Ceremony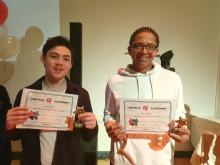 The Evening
The Young Carers Development Trust would like to offer an enormous congratulations to two of our young carers Oliver Baker and Louis Pang, who both received awards at a wonderful evening put on by Alliance Living Carers Support on the 21st November. The whole evening centred around celebrating the achievements of their young carers, all of whom are phenomenal young people. It was very moving and superbly executed, from the music and dance performances by the young carers to the introductions of each young person receiving an award.
The Awards
Oliver - received an award for his achievements in learning. Alliance Living Carers Support said this about Oliver: "Oliver is our second young carer to receive the Young Carers Development Award from this wonderful Trust. So far, four of our young carers have been lucky enough to be supported to achieve their dreams. Our winner tonight is about to embark on the second year of his four year-long-journey. We want to express our joy and recognition that he has fully embraced this opportunity. He and his mum said the support around learning has been life changing – we know Oliver will go on to achieve all of his ambitions."
Louis - received an 'aspirational award'. Alliance Living Carers Support had this to say about Louis: "Louis Pang shows such passion in his future goals, self-development and determination. Louis is an inspiration to us all as well as being funny, engaging and genuine wherever he goes."
We are very proud of all of our young carers and delighted to be able to highlight the achievements of these two.
Beneficiary Kerry McKenzie is National Citizen Service Graduate of the Year 2018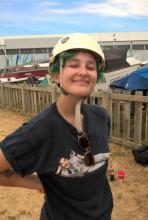 The Young Carers Development Trust would like to offer an enormous congratulations to beneficiary Kerry McKenzie, whose many talents include Sessional Youth Worker Kerry McKenzie for Youth Action Wiltshire, who has received a special recognition award for her excellent achievements at the National Citizen Service (NCS) Awards 2018. 
From the Youth Action Wiltshire's Newsletter:
Kerry was referred to Youth Action Wiltshire's NCS programme in 2015 by Wiltshire Young Carers. Since graduating from NCS, Kerry returned as an Ambassador for Youth Action Wiltshire, helping other young people between the ages of 15-17 years.
This summer, Kerry was a Team Leader for Youth Action Wiltshire helping to lead our NCS teams and has once again gone above and beyond in her work. Thanks to Kerry's on-going commitment and determination for social justice and equality, she is a beacon of hope for the future generations. Kerry is a role model for all of our current Ambassadors and young people who are inspired to follow in her footsteps and everyone at Youth Action Wiltshire is incredibly proud of her.  

Owing to her great achievements, Kerry was nominated for the NCS Graduate of the Year award this year and NCS have recognised her work and provided Kerry with a Special Recognition Award.

Kerry attended the NCS ceremony on Saturday the 1st of September held at Gloucester Cathedral. Kerry is now studying at Birmingham University, we wish her all the very best.