YCDT Young Carer Finalist at the Bristol Young Hero Awards 2022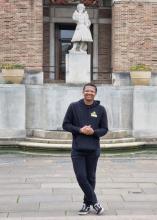 YCDT is enormously proud of young carer Oli, who is a finalist in the Caring Hero category at the Bristol Young Heroes Awards this year.
The awards aim to shine a light on those who have overcome difficult circumstances, made a difference to the lives of others, or achieved something extraordinary.
Oli is a finalist in the Caring Hero category which is defined as "A young person who is looking after a member of their family and sacrificed a lot by putting someone else's needs above their own.".
Oli always puts others before himself and is an inspiration to all around him, despite what challenges he might be facing. He is so well deserving of being a finalist for this award and I am honored to be his Mentor. All at YCDT wish him good luck for the finals! 
Karina, Oli's Mentor and YCDT Charity Manager. 
In line with YCDT's objectives,  nominees of these awards often report a significant boost in self-confidence, aspiration and said they were more likely to try something new.
The awards culminate in a special gala awards night for the young people and their family and friends to enjoy on 15th July.
Well done Oli!
First In-Person YAC Aspirations Conference a Success!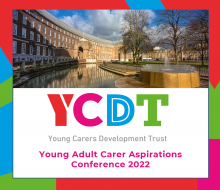 More than 40 young carers attended our first in-person Aspirations Conference on 20th April in Bristol City Hall and had access to a huge variety of workshops including, Employability Skills, Exploring Higher Education, Exam Ready, University Finance, Coping with Stress and more.
Following a welcome speech from the Liberal Democrats leader, Sir Ed Davey, the young carers heard from some of our own YCDT Ambassadors along with speakers from a selection of universities and support organisations.
We're Recruiting Volunteers!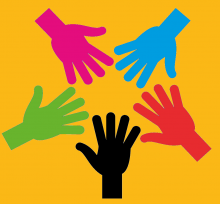 Can you support a young carer and help us change a life? 
We are recruiting for volunteer Development Mentors to support the 2022 young carers, if you are interested we'd love to hear from you. Our Mentors come from all walks of life with hugely varying life experiences and backgrounds. We are looking for empathetic, enthusiastic, and sensitive volunteers to help our young carers achieve their potential. This is a long-term mentoring position.
More details can be found here, including how to apply.
Young Carers Action Day! 16th March 2021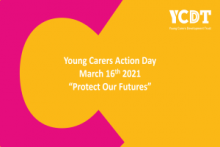 We are delighted to share YCDT's new film featuring our amazing young carers sharing their thoughts and experiences in support of Young Carers across the UK. Young Carers Action Day is awareness raising day and campaign to increase support for young carers, organised by The Carers Trust.  YCDT's Young Carers Action Day Film
YCDT Impact Report 2020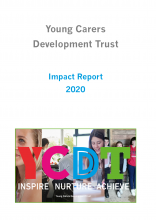 We are delighted to share our first Impact Report, demonstrating the life-changing impact we have had, the journey our amazing young carers undertake and their thoughts on the difference YCDT has made to their lives: