Vote For Young Carers Development Trust in the My Favourite Voucher Codes Charity Poll this November!
This month, Young Carers Development Trust are taking part in the charity poll over at My Favourite Voucher Codes - the money saving website that donates 20% of their profits to charity.

We are one of four charities competing for the donation this November, and the charity with the most votes by the public at the end of the month will win 20% of their profits! That's why we need your help, to win this donation and continue providing support for young carers all over the UK. 
Who are My Favourite Voucher Codes? 
My Favourite Voucher Codes help online shoppers save money with virtual voucher codes. These free vouchers and offers are available on their website, where visitors can get discounts on their shopping such as Buy 1 Get 1 Free, 50% off or free delivery deals. They work with some of the most popular retailers such as Argos, Sainsburys, Boots and Currys, so shoppers can save on everything from top toys to the latest technology. 
How Can I Vote in the Poll? 
Everyone gets one vote, and voting is 100% free, with no signup needed. All you need to do is: 
Visit the My Favourite Voucher Codes

homepage 

Scroll down until you see the charity poll on the right hand side of the page (or at the bottom of the page on mobile)

Click the small circle next to 'Young Carers Development Trust' to cast your vote!
You don't need to use any vouchers to sign up, however every voucher used does add to the final donation amount made to the winning charity. The poll opens on 1st November 2022 and will close on 30th November 2022, so make sure to get your votes in before then. 
It really is that easy! Every vote helps, and we greatly appreciate our supporters taking the time to vote for us. 
Thank you!
Young carers receive their donated laptops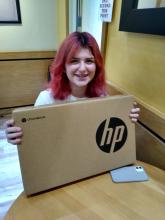 BOM IT Solutions generously donated 10 HP laptops to YCDT's new 2022 young carers to support them in their studies. We have now had the pleasure of handing them over to the young carers and in their own words, they were 'delighted' and 'chuffed' to receive them!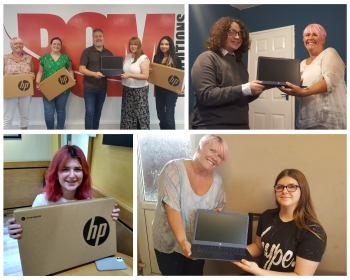 A massive thank you to BOM IT Solutions – your support of YCDT as a whole has been amazing and these donated laptops will make a big difference to these extraordinary young people and help them to succeed in their qualifications.
BOM are delighted to be the technology and support partner of YCDT, charity that has huge impact in and around the Bristol area.  
- Andy Carter (BOM IT Solutions)
Calamity & Kindness - YCDT Gala Dinner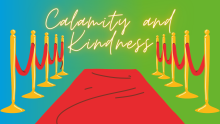 We are delighted to announce that YCDT will be hosting a gala: "Calamity and Kindness" on the 10th November 2022 in the stunning Palm Court at the historic Bristol Marriott Royal Hotel.
By supporting our Calamity and Kindness Gala Dinner through sponsorship or buying tickets, you will help to provide life changing opportunities to some of the most disadvantaged young people in the South-West and beyond. Together we will empower young carers to pursue their ambitions through education, training and readiness for employment.
Be dazzled by interactive performances from the Natural Theatre Company. After 50 years of performing across the globe, they are masters at creating brilliant and barmy characters who will mingle with us throughout the evening.
This event will be an ideal opportunity to network with other local businesses who also want to enable young carers to have the same opportunities in life as their non caring peers.
The event will be in memory of Bryan Daly, whose enthusiasm for life greatly impacted both the young carer he supported and the whole charity.
"Having Bryan as my mentor changed my life" - Young carer Louis.
Read about the sponsorship opportunities here.
View the full invitation here.
For more information:
T: 07368 366660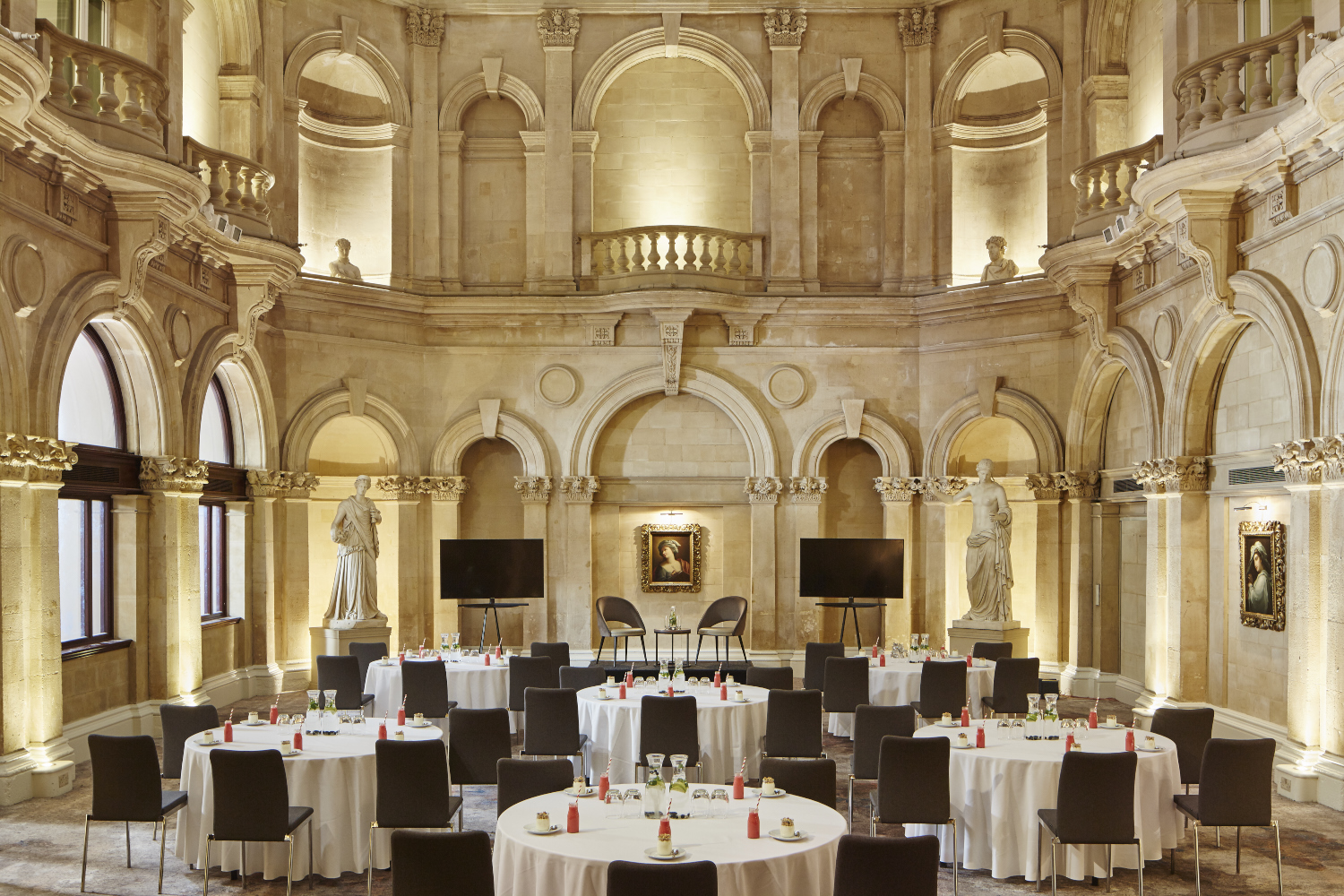 A Huge Thank You to BOM IT Solutions!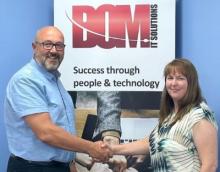 BOM IT Solutions is a family-owned private company based in Bristol and has been involved with IT since the arrival of the first IBM compatible PC. They provide a range of technology solutions from all things cloud to software as a service, whilst maintaining more traditional IT infrastructures with on-premises support to businesses of all sizes. In business for over 60 years, specialising in delivering relevant technologies to new and existing customers spanning across Network Services, Cloud & Cyber Security. BOM IT Solutions is a technology-managed service provider for over 150 companies who customer base spans across every facet of industry, from Finance to Automotive working with SME to Enterprise. Working with such a broad range of customers helps BOM gain a deep understanding of what products, services, and support any given industry requires from its technology partners and allows its specialists to advise on best practice.
BOM are delighted to be the technology and support partner of YCDT, charity that has huge impact in and around the Bristol area. BOM being a "People first, technology's covered" organisation, we felt that it was a great fit and we are delighted to be supporting grass roots young carers and the charity as a whole. 
- Andy Carter (MD)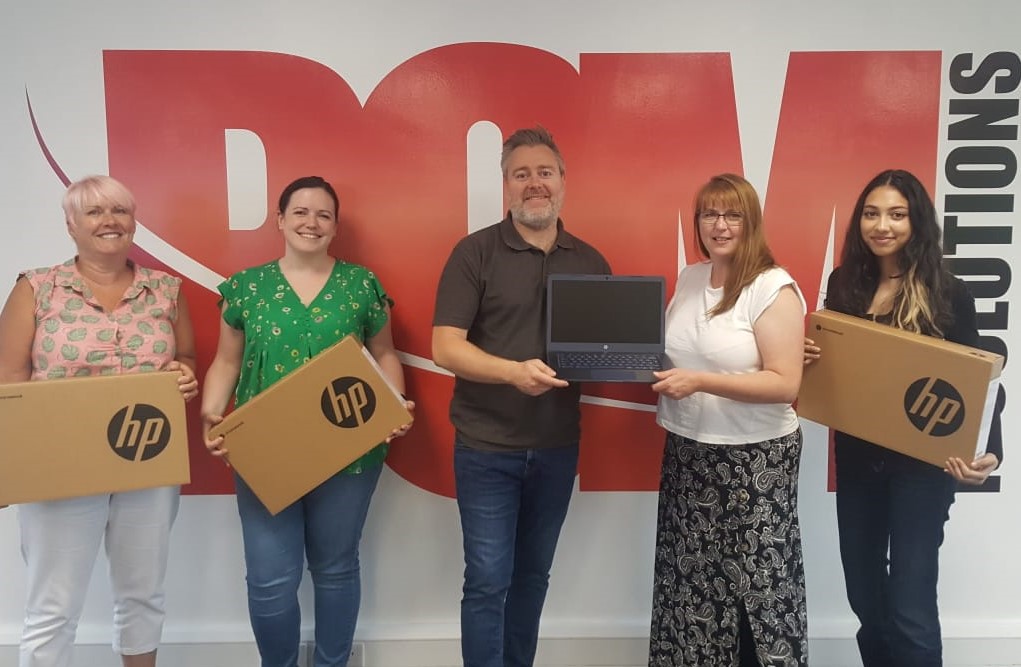 BOM Solutions has had a huge impact on the charity, including supporting the growth of the charity through a series of development sessions, supporting our IT & Technology needs and they are also very generously directly supporting one of our young carers.
The incredible support doesn't stop there, BOM also recently donated 10 HP laptops to YCDT's new 2022 young carers to support them in their studies.
A huge thank you to BOM IT Solutions – your support has been unparalleled and through it we can reach a greater number of young carers and effect truly positive change in   the lives of these extraordinary young people. 
https://bomitsolutions.co.uk / telephone: 0800 038 7222
Van Gogh Exhibit in Bristol: The Immersive Experience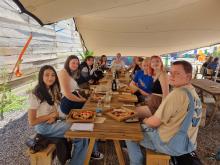 The YCDT staff and young carers visited the new Van Gogh Exhibit in Bristol last weekend. 
The trip was organised by YCDT Service Manager Mel,
It was fantastic to see so many of our young carers come together, make new friends, try something new and have a break from their caring responsibilities, but most of all just to have fun!
The award winning immersive experience was thoroughly enjoyed by all!