"Secrets and Lies" Gala Dinner

We were truly honoured and delighted to have over 100 people attend YCDT's first fundraising gala dinner on the 7th September 2018. This eventful evening included a sumptuous 3 course meal, talks from young carers who have been beneficiaries of the Trust, auction with diverse items from football seats to sculpture and paintings and the night was rounded off by a performance from the Butterfly Theatre Company of Shakespearean snippets, all in a 16th Century tithe barn!  
The evening was a huge success and raised well over £30,000, money which will go directly towards young carers. We are absolutely delighted with the event's success and would like to thank all those involved including our donors, speakers, performers and everyone who made this wonderful event happen.
Bath Percent Club Talk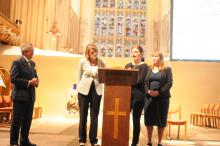 YCDT would like to offer it's grateful thanks to the Bath Percent Club for choosing us to talk at the recent event in Bath Abbey on the 27th September. It was a wonderful location for Karina Eccles (Charity Manager), Eve Miller, Development Manager and our ambassador for the evening – young carer Alise – to speak in front of the club about YCDT, in particular our aims, achievements and the difference we make.
Ray Harris Trust commits to 4 more years of support

We are delighted that the Trustees of the Ray Harris Trust have agreed to support the work of YCDT for a further four years.  With these secured funds, we will be able to engage with more beneficiaries in the south west region and ensure that as many young carers as possible are given the opportunity to pursue their educational and training ambitions.   This funding partnership is vital to the sustainability of the charity.
YCDT's new Business Plan 20:20 Vision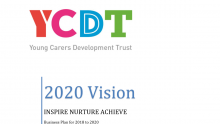 The Trustees and Management team of YCDT are delighted to publish their new Strategic Business Plan for the next three years.  It outlines bold plans for the growth  and development of the vital support given to young carers in the south-west. 
YCDT Inspire Day 21st August 2017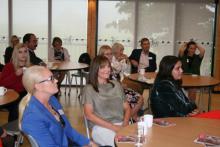 On 21st August, YCDT held its third annual Inspire event at the Kingswood School Sports Pavilion.  The Trustees were joined at the event by the Development Managers, the young people themselves and a number of our supporters.  The event gave everyone a chance to hear about some of the activities our beneficiaries have been part of during the past year and to celebrate their exam successes.  One of our Development Managers, David Keen, spoke movingly of how much he has enjoyed his mentoring role within the organisation and the day ended with one of the Trust's first Ambassadors, Amy Dyke, giving a wonderful account of her time with the Trust and the life-changing support she received.